STEVE THE SCAFFOLDER
  "O.K –  left a bit – straighten up – come on , come on –  you've  got about a foot or two  – bit more …. "
 You're watching Steve , the scaffolder,  as he stands in the middle of the road behind the reversing lorry holding up the traffic and waving his arms about guiding the driver into the narrow alleyway  between the two buildings . The Bulldog Scaffolding lorry has its rear lights flashing and the reversing warning  going full blast and that's standard.  Except there's something a bit out of the ordinary which grabs your attention today – in fact two things .
The first is that Steve seems to be making no effort to make sure Mick can hear him – Mick being the driver . To all appearances he's muttering to himself:
 "Keep it coming ….right a bit….straighten up ….."
Your best hope is that he and Mick have some well-rehearsed code of practice involving arm-waving and a rear view mirror. But then you notice Steve has got a pod stuck in his ear and a dangling wire  leading to a phone handset clipped onto the neck of his t-shirt and you realise he's communicating with Mick on his hands-free mobile. So this is hi-tech lorry backing.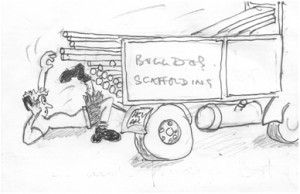 "  …And ….forward a bit …"
 It's all part of the update which Steve and Mick have been at pains to introduce to  the scaffolding business. They regard their occupation as a profession or a craft rather than a trade and think the public image of the scaffolder is bad PR. Does it have to be so downmarket , they wonder  – the  bronzed tattooed hulks with naked torsos and bare legs,  leather spanner belts and sawn off jeans at one end and industrial boots at the other who wolf whistle at anything in a skirt who passes beneath them . They prefer to regard scaffolding as a noble , wholesome vocation. What had Postman Pat or Fireman Sam or Bob the Builder got over an honest-to-goodness scaffolder, that they should be held up as role models on children's television? They've agreed that 'Steve ,the Scaffolder ' is a series just waiting to be made and they have already written its theme song, which they often sing in the cab on their way to jobs.
 'Steve the Scaffolder's the best
He gets it up at your request
Always ready , cheap  and quick
His erection does the trick  …'
" Would  they dismiss us as oiks if they knew we can come up with poetry like that,"  Steve sometimes says indignantly.
 What's more, some weeks earlier when work had been slack they had decided to up their game and put their name about with a bit of advertising . Finding the cost of local newspaper and radio advertising prohibitive they started looking for a cheaper broadcaster  – and found one.
Which is why the other thing you may notice today – as you watch Steve  directing the backing truck into the alleyway by mobile phone is the new reversing warning. Instead of the bland    "Vehicle reversing"  warning you'll  hear  –  "This reversing vehicle is brought to you by Bulldog –  the professional  scaffolding service " – and then  the jingle  – " Steve the Scaffolder 's the best  – he gets it up at your request   …Bulldog – for all your scaffolding needs." 
"Hold in there ……whoah  …..whoah "  Steve is mumbling  into his mobile headset .
But then the next thing you hear is a deafening crunch as the half the wall behind the reversing lorry crumbles to rubble .
" What happened ?" barks Mick leaping out the cab and brandishing  his mobile angrily . " You didn't say 'whoah' . "
"I did  ",  insists Steve staring guiltily at his handset . "But my credit ran out" .
_____________________________________________